SALON SUITES AVAILABLE NOW!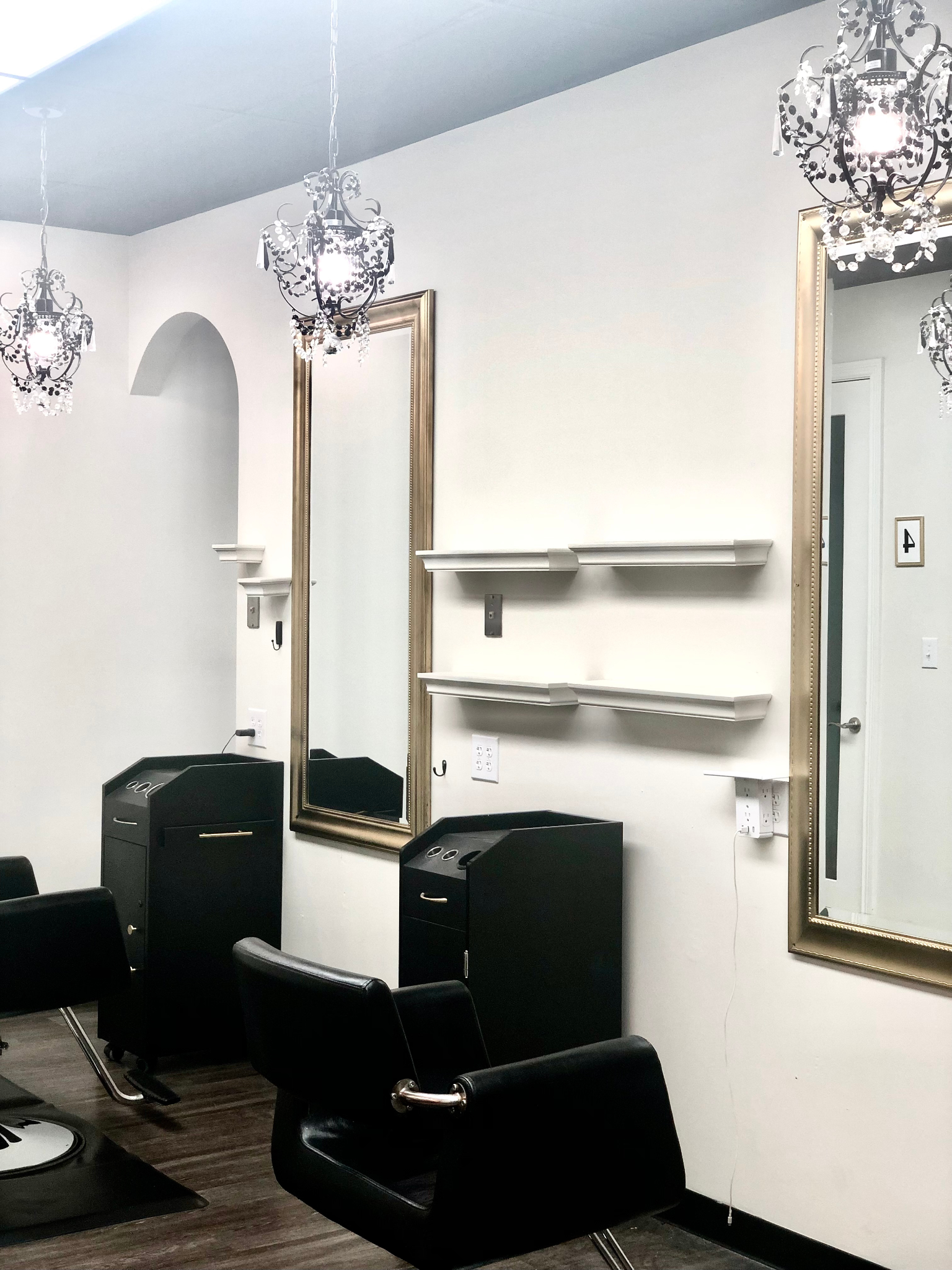 Work at Trendsetters
We offer you the opportunity to expand your client base, increase your income, and raise your quality of life. We are set up for stylists to lease their space on a weekly or monthly basis, with no costly build-out fees. We also offer unlimited retail sales opportunities. Bring your supplies, your clients, and step into owning your own business today!
Great location, ample parking for clients and staff, stop light access, and a beautiful stand-alone building. Applicant must have positive energy and a strong desire to work with a team.
Currently seeking stylists for chair rentals. Newly licensed or new to town? Ask us about our flexible rent start-up plans. 
Please reach out to salon manager Erica Arroyo via text for info.
Erica Arroyo 931-206-9530 (text preferred)
What I love about being a business owner? The freedom and flexibility of being your own boss and having the ability to decide the direction of your business. What I love about being at Trendsetters is that I work amongst a group of woman that love what they do; their kindness and creativity drive me to a higher standard. Honesty, they make coming to work easy, and I look forward to it. I learn from them, and I am inspired by them. I am held accountable by them. Trendsetters has given me a beautiful, energetic, and artistic environment, which I feed from, but also am able to contribute to. I am regarded and treated with respect as a small business owner. We are individual owners working together to not only build, but spur one another on in that pursuit as well.

Hair Stylist

I have rented at Trendsetters for 9 years now. I knew I always wanted to work there and had tried twice before, but there was nothing available. After being at Trendsetters 6 yrs, I had another opportunity presented to me  that I felt I needed to try. I was only there 6 weeks and returned back to Trendsetters. Even my kids realized that I wasn't happy when I was gone those 6 weeks. Sometimes you realize just how blessed you were! It is the best place I have worked in my over 20 years as a stylist. I'm encouraged, inspired, and loved. My clients love the atmosphere, others stylists inspire me, and the salon is beautiful! Not to mention, Annette built the break room with me in mind.

Hair Stylist

I have loved working at Trendsetters for years for many reasons. I get to own my own business behind the chair and set my own hours, allowing me to do more with my family. I set my own prices, allowing me to keep 100% of what I have worked for. Owning my own business allows me to be flexible to accommodate my clients. The atmosphere is wonderful, and it's great to be around Christian women like myself, we are each individual owners yet work as a team. The salon owner is great to work with! Our motto is "SPEAK LIFE." Great to work in such a positive environment!! Truly the best salon that I have ever worked in.

Hair Stylist

This is the second time that my business has rented with Trendsetters Salon. The reason for each time is that because of Trendsetters Salon, my business has been more successful. I love the women I work with, the salon is beautiful, and my customers love not only the great location but also the salon atmosphere. At Trendsetters, I receive many more walk-ins and call-ins to help me build my business. Annette takes great care of the salon and our needs.

Hair Stylist

Trendsetters has helped me maintain positive relationships inside and outside of work. Trendsetters is like one big family - you will always feel welcome here. Working with this amazing group of women has shown me what it's like to have a second family, and I am so lucky to be a member of this salon. Booth rent gives me the freedom to sell the retail product of my own choice and create my own schedule. Trendsetters is great location for clients to just walk in and see if anyone is available for a service. It's everything I expected and more. I'm so happy to be on this team!

Hair Stylist

I've been with Trendsetters for over a year, and it has been such a blessing. Since day one, Annette has made me feel so comfortable. She is always looking for ways to improve the salon and keep everything running perfectly. Trendsetters has such a welcoming and friendly environment. I absolutely love my team; they really are amazing.

Former Hair Stylist

I made the move to Trendsetters Salon after taking a 2-year break from my salon career. I was working as a manager for a professional beauty supply distributor and had the opportunity to meet and interact with so many of Clarksville's stylists, salon owners, and beauty professionals. When the time came for me to return to customer care through nail services, I knew what I needed in a salon environment: kindness, integrity, honesty, fun, faith, and freedom. I find that and so much more with Trendsetters. We may be independent owners here, but we also work as a team...a family, actually. It is refreshing to know I can make my own decisions and still receive guidance, input, and advice from top beauty professionals when needed. I'm a better Nail Specialist since working with Annette and her team. It is the happiest and most fulfilling career move I've made. If you are looking for a place that will help you grow, allow you to share your knowledge and talents, and recognize what makes you shine: Here It Is! At Trendsetters!

Former Nail Technician

Trendsetters Salon is an oasis for stylists. After being a salon owner of a large salon, I sold my business and started renting from Trendsetters. I never want to work for commission or own a big salon again. Being a military wife and mother of a young child, just renting space for my business made life so much easier. I was still an owner without the large investment and the headaches of a large business. My husband was transferred to Fort Rucker. I loved my time at Trendsetters and would highly recommend it to any stylist that is looking to become an independent stylist.

Former Stylist at Trendsetters

I started renting a booth from the nicest, most genuine and kind-hearted salon owner, Annette, here at Trendsetters. I was with her for a total of 8 years. She made sure the salon was always professional and customer-friendly, setting the most trendy styles by us furthering our education and working as a team to promote our careers.

Former Stylist at Trendsetters

I started renting a booth from the nicest, most genuine and kind-hearted salon owner, Annette, here at Trendsetters. I was with her for a total of 8 years. She made sure the salon was always professional and customer-friendly, setting the most trendy styles by us furthering our education and working as a team to promote our careers.

Former Stylist at Trendsetters